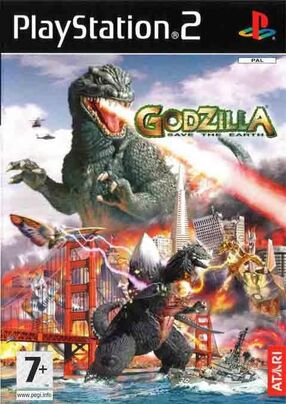 Godzilla: Save the Earth
 is a 
2004
 fighting game developed by 
Pipeworks
 and published by 
Atari
, released for the PlayStation 2 and XBox. It included a large variety of playable kaiju, such as Godzilla, Anguirus, SpaceGodzilla, Destoroyah, Mothra, Baragon, and more. The game's story takes place two years after its 
prequel
.
Storyline
Edit
Final Storyline
Edit
After failing to invade the Earth in 2002, the Vortaak return to Earth two years later with all of the monsters under their control, with their ultimate weapon, SpaceGodzilla. The player assumes the role of a monster who has broken free of the control, regardless of what monster is picked. If the player completes the game on hard mode with Godzilla 2000, a cutscene will be shown where Godzilla creates a black hole by blowing off SpaceGodzilla's shoulder crystals, which sucks him in, thus saving the world.
Scrapped Storyline
Edit
Originally, the Vortaak were going to infiltrate human society in order to obtain the G-Cells. The first few missions were going to be against human military; later on though, the aliens reveal themselves and more alien enemies appear. There were several cut missions from the story, such as a fight versus Destoroyah where the player had to activate Jet Jaguar for assistance or a fight in the Arctic with King Ghidorah. The final battle was also different. It was originally going to be that you ran up Mt. Fuji, fighting groups of monsters until you reached the top and end up facing SpaceGodzilla.
Unplayable
Edit
Most of these monsters appear in the sequel, Godzilla: Unleashed.
These can be changed from day to night.
Statue Level was a level briefly described in an interview and seen in concept art that would have involved fighting Destoroyah while trying to activate a statue of Jet Jaguar.
Rodan Railer was a railer seen only in concept art similar to the Godzilla 2000 and M.O.G.U.E.R.A. ones, set in a desert.
Las Vegas is seen in concept art for the game. Toho Kingdom has this screenshot and it is unknown if it is the only concept art of Vegas. The art shows Godzilla 1990's holding the Hard Rock Hotel's guitar, prepared to use it against Mecha-King Ghidorah.
An Ice Level set in Antarctica is shown in two pieces of concept art, one of Titanosaurus and other monsters battling it out. The second includes a description of gameplay in the level. It is a picture of Godzilla 2000 falling into an ice flow with Kiryu watching. It reads "Monsters can fall through ice flow hazards. They will re-emerge in the ocean section of the arena." It is unknown why such an interesting level was cut.
Miscellaneous Scrapped Elements
Edit
Many of the game's elements were scrapped. Many monsters were cut and the whole story, shown above, was cut, even though most of the time spent on the game was on the story mode. Simon Strange was a man who worked on the game, and he stated that it wasn't the "feel good" project that Godzilla: Destroy All Monsters Melee was. Las Vegas, a city, was cut, the Rodan railer was cut; the list goes on. There was originally going to be a robust tokens system, but it was eventually cut. All the cut-scenes were deleted along with the story, and the special effects for Anguirus' roar were changed. The basic idea is that many of the game's ideas were cut due to time constraints and licensing trouble.
Ad blocker interference detected!
Wikia is a free-to-use site that makes money from advertising. We have a modified experience for viewers using ad blockers

Wikia is not accessible if you've made further modifications. Remove the custom ad blocker rule(s) and the page will load as expected.